Friday, March 5, 2021
Seit mindestens dreißig Jahren begleitet mich diese Gute ...
Herzlichen Glückwunsch zum 50. Geburtstag!
Posted by

Jan Reetze
at 7:15 PM
No comments:


Tuesday, February 23, 2021
Manchmal lohnt sich Netflix ja doch. Ohne wäre mir beispielsweise Fran Lebowitz entgangen, und das wäre schade gewesen. Dabei liegt seit Monaten ein Buch von ihr aus dem Bestand meiner Liebsten auf dem "Noch-zu-lesen"-Stapel.
Wer sie nicht kennt: Fran Lebowitz ist eine jüdisch-lesbische New Yorker Essayistin und Romanautorin, gelegentlich trat sie auch als Richterin in TV-Courtshows in Erscheinung. Ihre Karriere begann sie als Mitarbeiterin von Andy Warhols Magazin Interview. Mit Warhol selbst kam sie nicht klar, doch das hat ihrer weiteren Karriere nicht geschadet. Diese Frau lebt nicht nur in New York, sie ist New York. Und genau das zeigt diese Netflix-Serie, die von Martin Scorsese aufs Gleis gesetzt wurde. Teils vor Publikum, teils im Gespräch mit jeweils nur einem Gegenüber, auf großer Bühne, in einem Club, in einer Bibliothek, ergänzt um diverse Ausschnitte aus verschiedenen Talkshows, erzählt Fran Lebowitz von ihrem New York. Immer redet sie klare Kante, immer schlagfertig, und nie verfehlt sie eine Pointe. Die sieben jeweils 30-minütigen Teile behandeln
New York

Cultural Affairs

Metropolitan Transit (über die New Yorker Subway)

Board of Estimate

Department of Sports & Health

Hall of Records

Library Services
Dazwischen wandert Fran Lebowitz durch Manhattan. Da packt einen die Sehnsucht, die Pest möge endlich von uns genommen werden -- Pretend It's a City wurde noch vor Covid gedreht. Nach einer Weile merkt man, dass es weitgehend immer dieselben Bilder sind, aber das schadet nichts. Außerdem spaziert sie sie in einem riesigen Modell-New York umher. Das alles ist hoch unterhaltsam, manchmal allerdings schwer zu verfolgen, denn Fran spricht in einem Höllentempo. Schlicht nervtötend nach einer Weile ist Scorsese, der sich deutlich zu oft selbst ins Bild setzt und vor allem jeden, aber auch wirklich jeden Satz von Fran ausgiebig belacht, idealerweise schon, bevor sie ihn zu Ende gesprochen hat. Irgendwas ist ja immer.
Um auf die gute alte Würfelbewertung aus dem Gong zurückzugreifen:

Und jetzt werde ich mich um das Buch kümmern.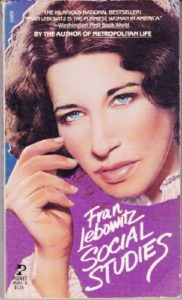 Posted by

Jan Reetze
at 6:14 PM
No comments:


Friday, January 15, 2021
Weiter in der Asmus-Tietchens-Chronologie: Irgendwann 1982, zwischen den Sky-LPs Spät-Europa und In die Nacht, erschien auf dem amerikanischen Cassettenlabel Aeon die Musik im Schatten. Die Auflage ist nicht bekannt; mein Tipp: nicht mehr als zehn. Mit etwas gutem Willen kann man das Produkt mit Musik aus der Grauzone (1981) und Musik an der Grenze (1982), beide ebenfalls Cassettenproduktionen, als Teil einer Werkgruppe auffassen.
Die fünf Tracks sind harte elektronische Kost, hervorgebracht auf dem Moog Sonic Six, gelegentlich mit kurzen, durchweg durch den Synthesizer und den Filteraltar gedrehten Sprachsamples erweitert. Verständlich ist dabei nur das Wort "selbst", zu hören in dem Stück "Du darfst", das wohl nach der gleichnamigen Margarinemarke benannt ist und ähnlich glitschig klingt. Alle fünf Stücke sind akustisch bewusst aufdringlich und schrill gehalten, es gibt kaum Pads, kaum Ruhepunkte und nur wenige angedeutete Melodien. In "Nosferatu" hören wir elektronisch imitierte Mickymaus-Stimmen, die ein wenig an "Stressmen" vom Biotop-Album erinnern. Tietchens-typisch ist aber auch auf dieser Einspielung der ökonomische Umgang mit dem Material -- nie sind es mehr als vier Schallquellen gleichzeitig, die man hört. Deswegen konnte Tietchens auch immer auf die Möglichkeiten des programmierbaren Mischpultes verzichten, das in Okko Bekkers Audiplex-Studio vorhanden war.
Es ist kein Vergnügen, sich diese Cassette anzuhören; auf mich wirkt die Einspielung "zusammengehauen" und nicht wirklich interessant. Im Gesamtwerk Tietchens' wird man die Musik im Schatten wohl als entbehrlich ansehen dürfen.
Musik im Schatten
Aeon AE 001, USA 1982
Wiederveröffentlicht auf Auricle Music AMC 34, GB 1988.
Posted by

Jan Reetze
at 6:12 PM
No comments: