Sunday, April 30, 2017
Anton Bruckner: Symphony No. 8
Pittsburgh Symphony Orchestra
Manfred Honeck, conductor
Pittsburgh, Heinz Hall, April 30, 2017
Posted by

Jan Reetze
at 6:10 PM
No comments:


Saturday, April 29, 2017




1977, lange bevor Asmus Tietchens seine erste Soloplatte veröffentlichte, ereilte ihn ein Notruf von Hans-Joachim Roedelius. Dieser stand mit Dieter Moebius im Studio und hatte bei Conny Plank für das Album Cluster & Eno 30 Minuten Musik mit Brian Eno eingespielt. Der allerdings musste sich dann nach England verabschieden. Weil aber 30 Minuten zu wenig für ein Album sind, andererseits der Termin fürs Schneiden der Plattenmatritze schon gebucht war, musste flugs noch ein weiteres Stück her. Das spielten dann Asmus Tietchens und Okko Bekker in Okkos Audiplex-Studio ein, sechseinhalb Minuten lang und "One" betitelt. Zu hören sind Gitarre, präpariertes Klavier und Sitar. Weder Eno noch Roedelius oder Moebius sind an dem Stück beteiligt. Interessanterweise fand Manfred Gillig seinerzeit in seiner Albumrezension in der "Sounds", mit seinen "orientalisch gefärbten Sitar- und Perkussionsklängen" beziehe das Stück "schon eher Stellung" [als der Rest der LP] und erinnere an Enos Another Green World. Kann man so sehen, obwohl es sich nach meinem Dafürhalten sehr gut in den Rest des Albums einfügt, das ich im übrigen bis heute sehr liebe.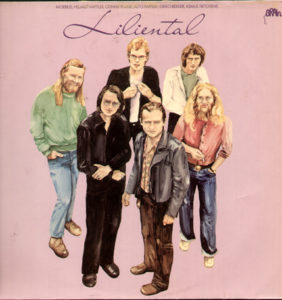 Liliental, aufgenommen 1976, veröffentlicht 1978, ist keine Band, sondern eher ein Zufallsprodukt. Tietchens findet die Platte nicht wichtig, aber sie ist seine erste Äußerung als Musiker, die auf einem Tonträger erschienen ist. Eigentlich sollte dies eine Soloplatte von Dieter Moebius werden, der allerdings dann Tietchens und Bekker einlud, daran mitzuwirken. Die Möglichkeit, eine Woche lang umsonst Connys Studio zu nutzen, ließen sich die beiden nicht entgehen, und durch Zufall — wegen einer Kraan-Produktion — fanden sich dort noch Bassgitarrist Hellmut Hattler und Saxophonist Johannes "Alto" Pappert ein. Conny Plank selbst griff zur Gitarre, und so entstand dieses Album, mehr oder weniger aus Sessionsituationen heraus. Tietchens, Bekker, Moebius und Plank sind auf allen sechs Tracks zu hören, Hattler auf den Stücken der Seite 1, Pappert auf den Stücken der Seite 2.
Das Album schwankt zwischen Experiment und Unterhaltung, ist in jedem Fall angenehm zu hören und gilt heute als eine Art Krautrock-Geheimtipp.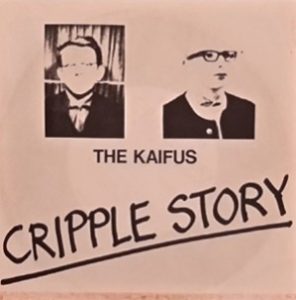 Letzteres kann man von der Cripple Story bei allem guten Willen nicht sagen. Aufgenommen wohl 1967, wurde die Story 1985 als EP mit dem Untertitel "Ein Streichquartett" als Privatpressung mit einer Auflage von drei Exemplaren veröffentlicht. Zu hören sind E-Bass, E-Gitarre, Geige und Balalaika, sämtlich mit dem Bogen malträtiert. Vier Tracks, der letzte ist eine Veralberung der deutschen Nationalhymne, gewidmet ist das Ganze Rolf Zander, Tietchens' und Bekkers Musiklehrer am Kaifu-Gymnasium.
"Kaifu" steht für "Kaiser-Friedrich-Ufer", eine Straße in Hamburg-Eimsbüttel, an der sich das gleichnamige Gymnasium befindet. Tietchens und Bekker gingen dort zur Schule. Ich kenne das Gebäude auch gut, ich musste jeden Morgen dort vorbei zum benachbarten Bismarck-Gymnasium. Und wer will, kann das ehrwürdige Bauwerk auch in dem bahnbrechenden Filmdrama "Zur Hölle mit den Paukern" von 1967 (Teil 1 der Septologie "Die Lümmel von der ersten Bank") in Augenschein nehmen. Die Cripple Story legt beredtes Zeugnis von der anregenden Atmosphäre dieses Instituts ab und wird neben den Werken György Ligetis und Dieter Bohlens seinen sicheren Platz in der Musikgeschichte finden.


Cluster & Eno
1977, Sky Records 010
Liliental
1978, Brain Records 0060.117
Cripple Story
1985, Aurecs 001, heute enthalten auf dem Album "Adventures in Sound"
Posted by

Jan Reetze
at 5:52 PM
No comments:


Sunday, April 2, 2017
Pittsburgh, Heinz Hall, April 1, 2017
Man könnte diesen Mann im Schlafanzug auf die Bühne stellen, und er hätte immer noch Stil. Ein bisschen kurzatmig ist er ja geworden, der gute Bryan, und die ganz hohen Töne übernehmen inzwischen Backup-Sängerin und -Sänger, aber was soll's. Der ehemalige Roxy-Music-Sänger ist 71, da ist das nun mal so. Aber was er und seine achtköpfige Band da gestern abend in Pittsburghs Heinz Hall auf die Bühne stellten, das war beachtlich. Chris Spedding an der Gitarre, der allerdings meist dem jüngeren Gitarristen Jacob Quistgaard aus Dänemark das Feld überließ. Der wahre Show-Act allerdings war die australische Saxofonistin Jorja Chalmers, die wirkte wie unmittelbar aus einem film noir aus der Leinwand gesprungen.
Geboten wurden "Greatest Hits". Ein paar ältere und neuere Ferry-Klassiker ("Slave to Love", "Bête Noir" und andere), doch dreiviertel der Setlist stammte aus Roxy-Music-Zeiten. Offenkundig hat sich Ferry damit abgefunden, dass dies die Songs sind, die das Publikum hören möchte, und er bringt sie gut. "Ladytron", "Bitter Sweet", "Love is the Drug", "Re-make / Re-model", "More Than This", "Avalon" – alles war dabei, und nichts wirkte angestaubt, trotz der etwas einfallslosen Lightshow, bei der sogar die gute alte Spiegelkugel exhumiert wurde. Besonders bemerkenswert im übrigen das Instrumental "Tara", das allen Bandmitgliedern Gelegenheit zum Solieren gab (und dem Sänger ein "pee break", wie die Amerikaner das nennen, wenn der Star während der Show kurz von der Bühne verschwindet), und eine Coverversion von Neil Youngs "Like a Hurricane".
Tja, und dann passierte es: Mitten in "Virginia Plain", als schon längst alle Besucher in den Sitzreihen standen, hauchte mit einem schrillen Pfeifton die PA ihr Leben aus und ließ sich nicht mehr reanimieren. Nach zehn Minuten Ratlosigkeit erschien die Violinistin der Band, Marina Moore, auf der Bühne und spielte – unverstärkt und solo – ein paar Minuten lang ein Werk, das eine der Soloviolin-Partiten von Bach gewesen sein könnte. Danach erschien noch einmal kurz Bryan Ferry, sagte über die Hausanlage irgendetwas, das niemand verstand, aber sein Abschiedswink war eindeutig. Der Setlist nach verpassten wir noch "Let's Stick Together", "Jealous Guy" und "Editions of You".
Das Publikum nahm's gelassen. Was blieb auch anderes übrig.
(Dieser Beitrag erschien zuerst bei manafonistas.de)
Here the review by Scott Mervis, Pittsburgh Post-Gazette.
Posted by

Jan Reetze
at 4:13 PM
No comments: